bikram yoga: good or bad?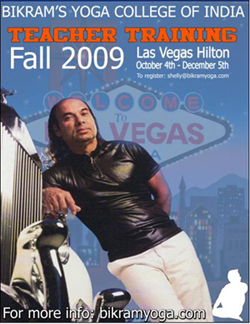 Bikram is thought of by many yogis as "not real yoga," whatever that means. Why? Well, it's incredibly body oriented, and most people attracted to it (it seems to me) are primarily interested in their bodies lookin' good, as there isn't much attention to anything but forcing yourself, asana, and some heating pranayama.
What's wrong with that? Nothing. It is what it is. A bikram yoga studio is heated to a recommended 105° F/40.5° C to assist flexibility (warm bodies are more flexible than cold) and sweat, with the hope of detoxifying the body. Bikram Choudhury (the founder) has gained attention for claiming trademark and copyright on his sequence of 26 yoga asanas (poses) and threatening to sue anyone who teaches them without his approval. "This is enlightenment?" many ask, including Nora Isaacs at salon.com. Apparently so, as Bikram has compared his speedoed self to the Buddha.
How do I feel about Bikram yoga? Mixed. I tried it at Funky Door Yoga every day for a week while visiting a friend in San Francisco in 2005 and I liked it a lot. I liked it most, probably, because I love to be warm. It felt great to sweat. I personally think Bikram might be trying to recreate the climate of India in those heated rooms, which makes sense in a certain way. I didn't find it that hard—it wasn't a vigorous vinyasa, but 26 poses performed one after another. Maybe some are repeated. I've forgotten.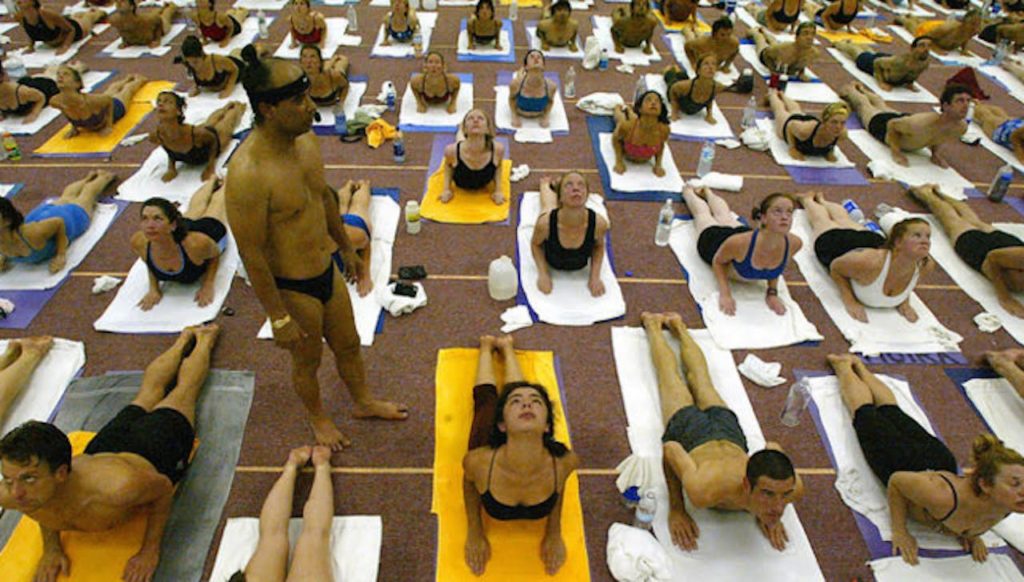 My concerns about Bikram concern safety and health. Some of the asanas aren't for every body, and there were people in the room trying to do poses that could be downright dangerous. One of the poses, supta virasana, is a standard pose that most western bodies just don't manage without props (there are no props in Bikram). Bonnie Bainbridge Cohen once said that this asana sends more people to the emergency room than any other (blows out the knee) and yogajournal even issues a caution before explaining the pose on its site.
Another concern is that imbalanced people (most of us) tend toward what we don't need. Bikram tends to attract hot-headed, aggressive, type-A people. In yogic thought, the last thing such people need to do is hop into a 105° room and sweat it up. Instead, they need to learn how to chill out. And I must say that the few people I've known to do Bikram regularly aren't particularly relaxed or present (not that, ah, I judge). Even if this strikes you as hogwash, the question of how healthy it is to work out in that kind of heat does present itself, especially if the student has health issues.
I'm not so much into good or bad. If you like Bikram and it's working for you, great. I think it might even be good for people who tend to be cold (physically), retiring, or in need of a boost.
2014 Update: Bikram is something of a scoundrel. If you are seriously interested, check out the book Hell Bent by Benjamin Lorr, or at the least read this Vanity Fair article about the rape and harassment cases against him.
Or the Netflix documentary:
…
…

---
---